The Beach Planner's Tulum Bachelorette Party Packing List
Welcome to our comprehensive guide for the ultimate Tulum escape! As your trusty bachelorette party planners in Mexico, we've coordinated hundreds of bachelorette groups and have put together a comprehensive guide to help you pack all the essentials for your BACH party! Who better than your Beach Planners to help you pack your bags for this tropical weather? From trendy outfit ideas to must-have items, this blog post will ensure that you and your BACH know what's hot, and what's hotter!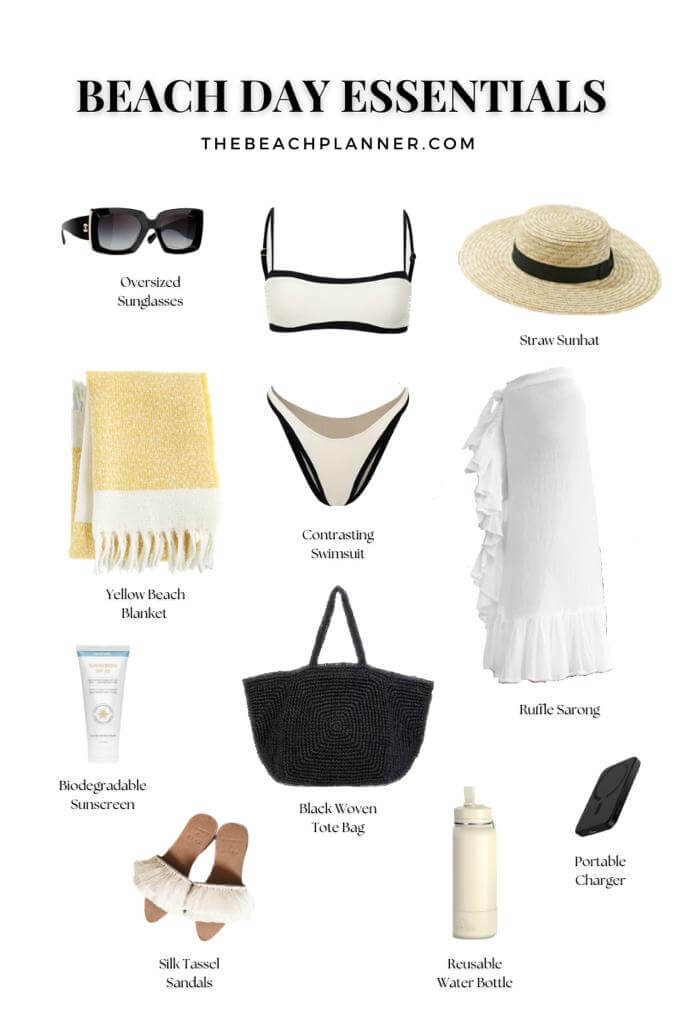 Bride Tribe: Matching Outfits for the Bride and Her Gals in Tulum
Take your bachelorette experience to the next level with adorable and classy ensembles that reflect the vibe of your tribe. Coordinating chic attire will turn heads as you take on the town and post those amazing photos to your stories and grid. From matching swimsuit ideas for your yacht charter adventure to matching flower crowns for a private chef dinner, create cohesive group looks for each activity as you embark on your Tulum adventure.
"The Nauti Ones" Tulum Packing List:
What better way to showcase friendship than with matching swimsuits for your yacht charter? The most popular trends and tropical ideas include neon, animal print, classic black and white, barbie themed, and more! We also love a sexy "Bond girl" color palette with delicate gold and blush hues. You can also have your crew come up with 2 color block colors and let each girl choose to wear that color or a combination of both. This looks so cute in photos and allows the personalities of your group to shine through with their bathing suit of choice.

Our favorite for a group with big personalities is bathing suits with terms in bold for each bachelorette in your group including phrases like "rosé all day," "champagne campaign" "resting beach face" and more! Have everyone in your group come up with the phrases for each bachelorette for an even more fun, flirty, and personalized touch.
Pro tips:

For a more effortless vibe (and less work for you), let your group pick out their own swimsuit styles within a limited color palette or different shades of a single hue.
As you narrow down a style, consider whatever life stage your friends are in and the kind of clothing they usually wear. Skimpy bikinis may be no biggie for a mostly single group, but married, new moms may possibly prefer full-coverage options.
Once you've nailed down a style or theme, take the looks up a notch with a few matching accessories like woven and personalized beach bags, monogrammed sun visors, fun sunglasses, or matching cover-ups.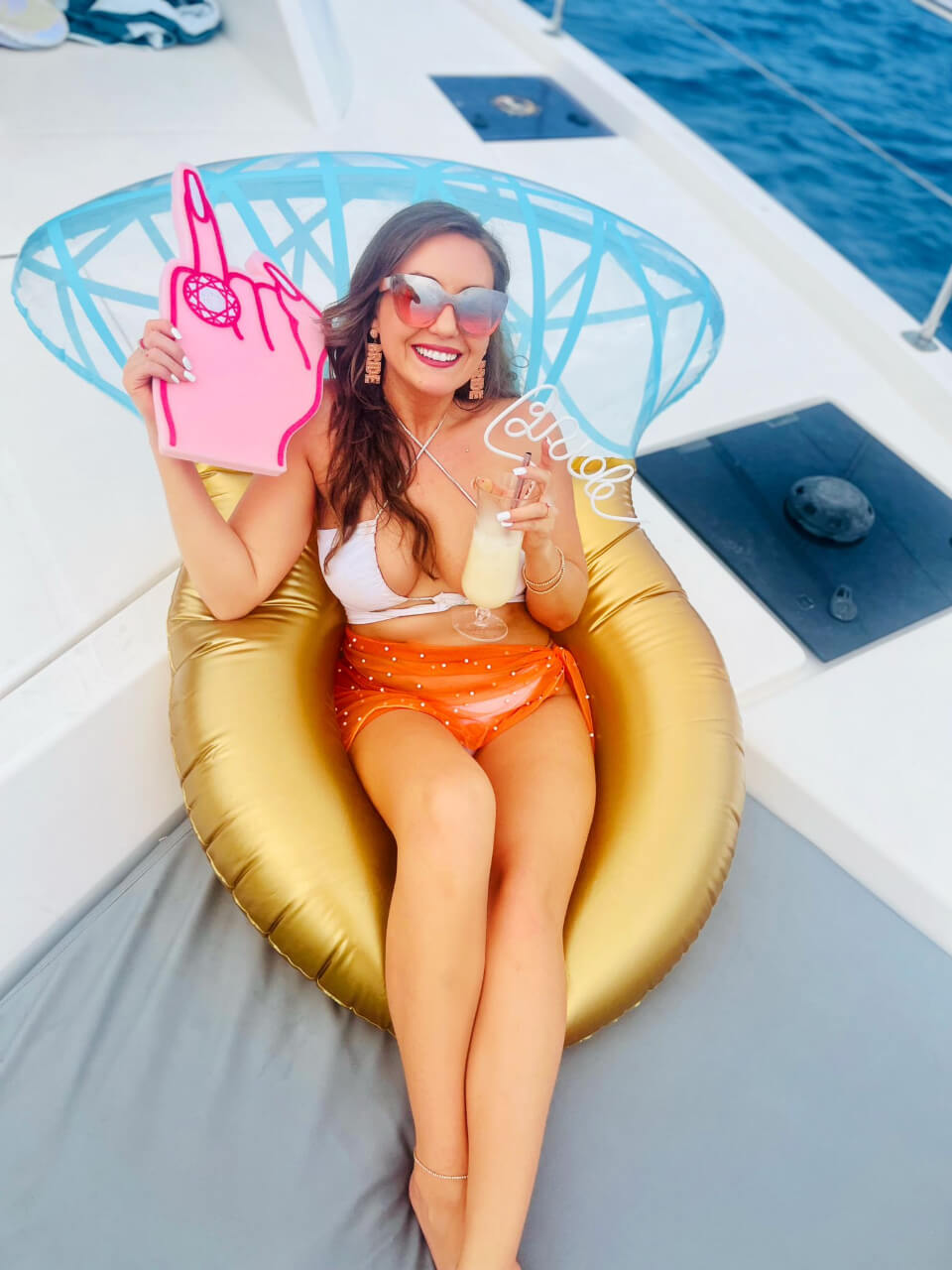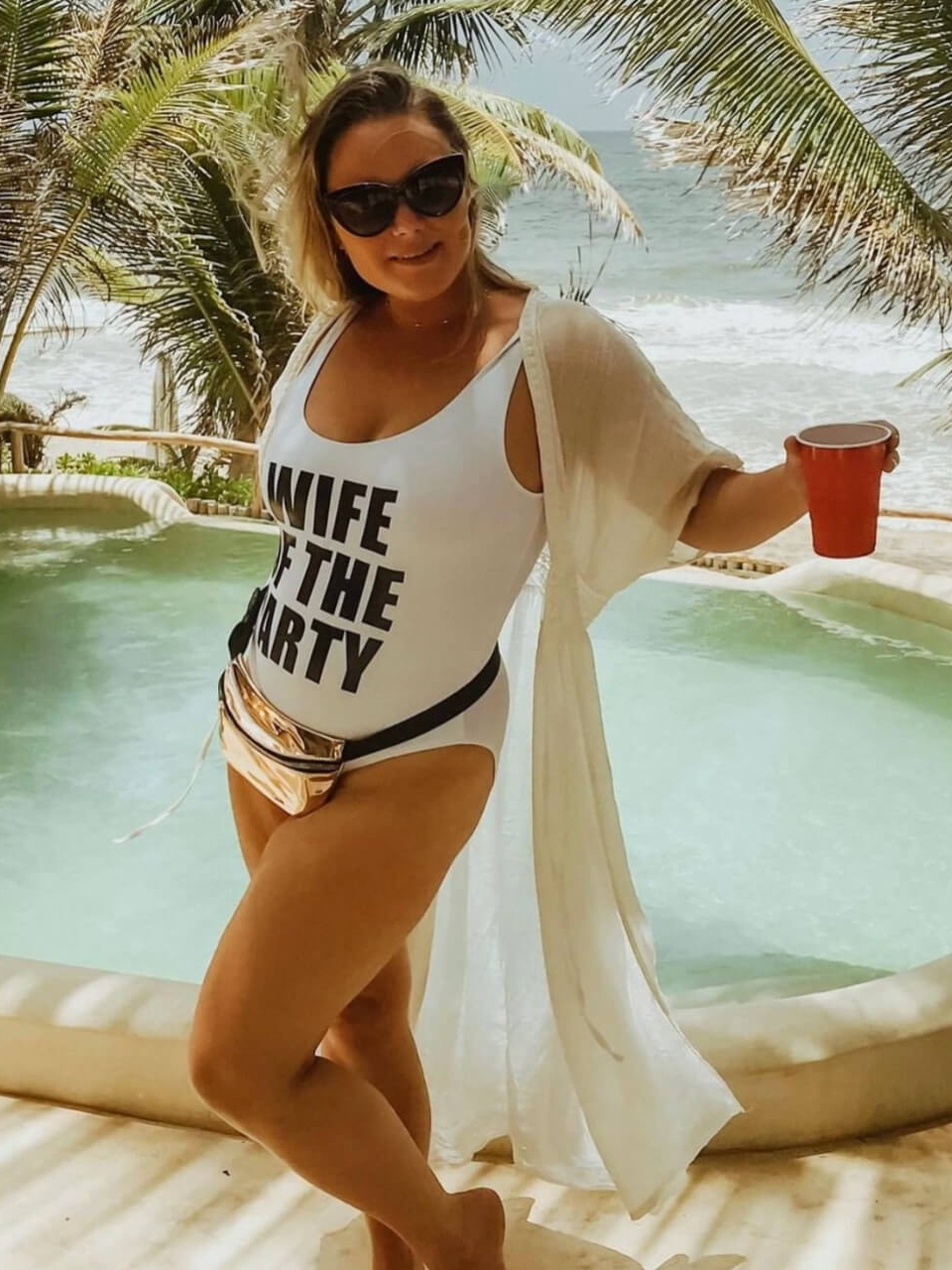 "Girls Just Wanna… Stay In" Tulum Packing List:
After a long day of travel, many of our bachelorettes choose to have their first night in at their gorgeous villa accommodations with a private chef booked for dinner. What better way to enhance this night than by having a silk pajama party or a lingerie party! Consider pale pinks and silk a theme, or a "bubbly bride" with lots of champagne hues and champagne glasses of course! We can even have a vintage inspired whipped cream and maraschino cherries cake delivered for dessert. Pajama sets with feathers, teddies in your bride's favorite color, fluffy slippers, and eye masks are fun additions to this night too!
Pro tips:
Be sure to have everyone's sizes and preferences for the style of pajama or lingerie they will be wearing and sharing!
This is a super fun night to also have games, a fun dancer surprise 😉, or a private bartender.
Having matching flower crowns or flower clips at check-in to wear for your night in is also a special touch. We can coordinate this at check-in and have the flowers in the shade of your theme.
"A Night To Remember" Tulum Packing List:
The Beach Planner can provide you with VIP access to all of Tulum's most coveted parties and dinner reservations including Gitano, Rosa Negra, Bagatelle, Vagalume, Papaya Playa Project, and more! These locations are the perfect backdrop for stunning outfit ideas.
Black & White: Keep it simple and clean with chic matching black dresses for the bride tribe and a classic white dress for the bride-to-be.
Flip the script: Have all of your bridesmaids wear white and you wear your favorite color in your favorite mini dress!
Boho Bliss: Wear a Tulum style crochet white dress and everyone else wears a beachy/ boho dress of whatever color they want
Death to my last name: Have a fun "funeral" where everyone wears their chicest black dress in honor of you changing your last name
Margaritas + Matrimony: think sunset, tropical colors, and strappy sandals (but, remember no heels!)
Disco Divas: For that Gitano Jungle disco night, shimmery shifts, platform shoes, 70's inspired dresses and 2 piece sets are so fun! GoGo boots optional!


Pro tips:
Make sure everyone in your group wears sturdy shoes and no stilettos. Most clubs in Tulum are in the sand or have uneven floors so no high heels!
Customize a wicker, crossbody bag with everyone's name on it as a party favor at check in. This makes for a super cute accessory for their trip, and a perfect souvenir to always remember your BACH!
Whether it's a statement accessory, a stunning floral hairpiece, or an effortlessly Tulum festival hat, find that unique element that speaks to the bride-to-be's iconic personality and love story, and run with it!
Essentials
The Basics Tulum Packing List:
Villa booked? Flights booked? Itinerary on lock? Let's pack those bags! From breezy sundresses to stylish 2-piece sets, boho hats, and more, these are the items that are quintessential Tulum
Sundresses: Nothing says Tulum more than a flowy sundress! Opt for eye-catching, bright, gem color dresses.
2-Piece Sets: A match made in heaven! You can't go wrong with a matching maxi skirt and a bandeau top in a neutral color palette
Sandals: Style is everything, but don't sacrifice comfort. Bring comfortable footwear to keep the party going all night long!
Crossbody Bag: Never go without your personal essentials! Carry a crossbody to keep those staples close.
Simple Jewelry: Accessorize with a simple chain or pendant necklace
Tuluminati Hat: Finish off your outfit with a brim hat as a gorgeous accessory
Practical Chic Tulum Packing List:
We believe that style should never be compromised, even in the face of daring escapades. Whether you're embarking on The Beach Planner's secret cenote tour, an adrenaline-pumping ATV ride, or an awe-inspiring tour of the Tulum ruins, these are the basics to pack:
Sunglasses: Accessorize them with a sunglass chain that gives your outfit a fun pop, and keeps your sunnies safe.
Activewear: Pack lightweight, comfortable workout sets that are easy to move in and cute for the gram
Hat: Custom bucket hats or baseball hats for your entire crew is a super fun addition to a tour day. Customize them with everyone's name or nickname, or your Tulum bachelorette theme
Sneakers or flip flops: Support your bride-to-be and your feet! Pack reliable footwear and they will both thank you later.
Sunscreen: Be ready for a lot of sun. Tinted or shimmer sunscreen is ideal for the hot and humid climate in Tulum where minimal makeup is best.
Beach Day Bliss Must-Haves Tulum Packing List:
You can't forget the essentials. Pack these items to ensure a seamless bachelorette beach day:
Sun hat: Customize your beach hat with everyone's name on it for a cute accessory for photos
Reusable Water Bottle: Stay hydrated in Tulum's heat by carrying a reusable water bottle. The new Brita water bottle even has a filter in it for extra precaution! All Beach Planner villas provide clean drinking water, which helps reduce plastic waste.
Beach Bag: We love a good wicker beach bag, which matches any and every cover-up! Make sure it's large enough for carrying essentials like sunscreen, a reusable water bottle, a towel, a wallet, and your phone all while soaking up the sun.
I Would Have Never Thought to Pack This Tulum Packing List:
After coordinating hundreds of BACH trips in Tulum, we've come up with a random list of really important and often forgot-about items
Portable Charger: Keep your devices charged to capture all the incredible memories.
Waterproof Phone Pouch: Safeguard your phone during beach activities or pool parties.
Pepto Bismol/Alka Seltzer/After Drinking Care: Be sure to pack some 'morning after tequila shots' essentials
Under Eye Face Masks: There is very little sleep to be had on a bachelorette. Make sure you are prepared with some lack of sleep enhancers!
Disposable Cameras / Polaroid Camera: This is a fun addition to your packing list for fun, old school photos!
Bug Repellent: Keep pesky bugs at bay. The perfume of Tulum!
Oil Blotting Sheets: Hello Humidity! Hello dancing til dawn. Blot away my beauty!
Dry Shampoo: The last thing you want is greasy hair when trying to enjoy the sun and sand.
Sunscreen lip balm: Your lips are just as susceptible to sunburn as the rest of your skin, so pack a lip balm with SPF.
Loungewear + slippers: Be sure to pack some comfy clothes for the mornings you are hanging out at your villa. The AC can get cold at night, so a light sweatshirt is always nice to have
After sun cream: There's nothing worse than coming home from a dream vacation with a sunburn. Be sure to pack after-sun cream to soothe your skin in the Mexican sun after a day.
Portable Speaker: This is fun to always have on hand when getting ready together in your rooms!
Reusable Bags: Having a reusable bag handy for shopping will make the experience a breeze.
What NOT to pack for Tulum
You might think you need to pack a lot for your trip to Tulum, but in reality, here's a list of things you don't need to bring to Tulum:
Heavy winter clothes – Tulum is a tropical destination so you won't need any heavy winter clothing. Leave your coat and boots at home!
Formal attire – There's no need to pack anything too fancy for Tulum. Casual clothing is perfectly acceptable and, in many cases, preferred.
A lot of money – You won't need to bring a lot of cash to Tulum. Many establishments accept credit cards, and ATMs are available if you need cash.
Expensive jewelry – Tulum is a laid-back destination, so leave your expensive jewelry at home. You probably won't need it, and it's better to be safe than sorry
Outlet converters - If you are traveling from the US and Canada, the outlet is the same so no need to worry about electric converters!
Boutique Spotlight in Tulum:
The Beach Planner's absolute favorite shopping is local boutique Wanderlust Tulum. Wanderlust is a beach lifestyle brand located in the heart of the Tulum hotel zone. Tucked in a gorgeous coconut grove next to The Beach Planner's favorite restaurant, Los Bowls de Guadalupe, this is a perfect stop to do some shopping with your girlfriends! Each true, one-of-a-kind dress is made from exquisite textiles with rich colors, special patterns, and modern twists on the ancient artisan techniques from Italy and México. Their dresses are made from the same silk used at Versace! We can't think of a more quintessential and classic dress shop in Tulum. We love Wanderlust.
We hope you're feeling inspired and ready to embark on a spectacular journey with your closest friends. Remember to pack the essentials and, of course, a sense of adventure to create memories that will last a lifetime. To ensure you have everything you need for the ultimate Tulum experience, don't forget to download our exclusive packing checklist below. Make packing easy by simply checking off items as you go! So, gather your girls, get ready to bask in the sun-kissed bliss of Tulum, and let the celebration begin!